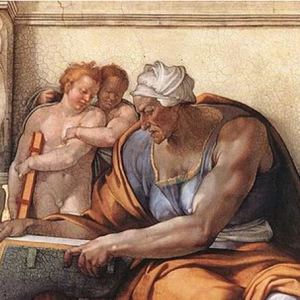 10 November 2023, 16:00 – 17:30, KNAW Trippenhuis – Kloveniersburgwal 29, Amsterdam. Sign up here.
In his Erasmus Birthday Lecture Brian Cummings, Professor of English, University of York (UK), will relate how Erasmus visited the cave of the Sibyl at Cumae in the company of Alexander Stewart, illegitimate son of James IV of Scotland. Johan Huizinga pronounces "What the Sibyl said to Erasmus, we shall never know".
In asking what the Sibyl said, Huizinga comes as close as possible to Erasmus' attitudes to prophecy and meaning, and to his feelings for the doomed youth who accompanied him. Erasmus wrote intense eulogies of Alexander studded across his works for the rest of his life, often hidden in obscure adages about the sayings of classical oracles. Brian Cummings will set out the surviving grounds for exploring that last unmentionable area of Erasmus' biography: the luminous, ardent, secretive world of erotic love.
Lecturer Brian Cummings
Brian Cummings (1960) is Anniversary Professor at the University of York, United Kingdom, in the Department of English and Related Literature. He is currently a Leverhulme Trust Major Research Fellow working on his next book The Art of Reading: Erasmus and the Life of Literature, to be published by Princeton University Press. He was previously Fellow of Trinity College, Cambridge, and Professor of English at the University of Sussex.
His books include The Literary Culture of the Reformation: Grammar and Grace (OUP, 2007); Mortal Thoughts: Religion, Secularity & Identity in Shakespeare and Early Modern Culture (OUP, 2013), which won the Elizabeth Dietz Prize at the Modern Language Association of America; and an edition of The Book of Common Prayer, which was runner-up in The Atlantic Book of the Year. In 2012 he gave the Clarendon Lectures at Oxford University on 'Bibliophobia', and in 2013 the Margaret Mann Phillips/ Erasmus of Rotterdam Society annual lecture in San Diego, California. He is a Fellow of the British Academy and a Fellow of the Society of Antiquaries of London. He is currently a Visiting Fellow at ICON at the University of Utrecht and Erasmus Collection Fellow at the Rotterdam Public Library.