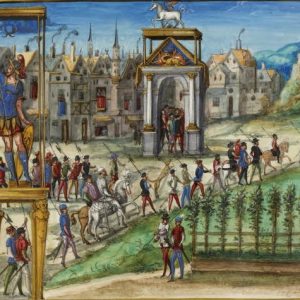 Date: Thursday 30 September 2021, 14:00-17:00
Location:  Bucheliuszaal, Utrecht University Library (Heidelberglaan 3, 3584 CS Utrecht)
About
Dr Linda Briggs is Staff Tutor in History at The Open University (UK). An expert on early modern festivals, her most recent work includes articles on monarchs' performances of Catholic ritual in the Wars of Religion (French History), and triumphal entries and court spectacles as crucibles of power in sixteenth- and seventeenth-century France (Routledge). Her current research focuses on ephemeral art and architecture created by local communities to mark royal visits to their cities in the Wars of Religion. Through deconstructing the iconography in street decoration, she reveals how different communities responded to the prospect of Crown-enforced religious co-existence. This work will soon be published as a book.
During her stay as a visiting scholar at the Utrecht Centre for Early Modern Studies (Utrecht University), Dr Linda Briggs will offer a workshop for Masters and PhD students on interpreting royal entries in their European, national and local contexts. As a medium of communication – for monarchs who expected them and civilians who designed them – entries had a huge reach. Audiences included the thousands who spectated in person and international readers of commemorative festival books. It is therefore worth understanding what these festivals have to say. The aims of the workshop are to provide: an overview of the latest research in the field of festival studies, a guide to assessing the universal and context-specific meanings of entries, and an opportunity for students to further their analytical skills through hands-on engagement with primary sources, in particular early modern printed materials from the Special Collections of the Utrecht University Library.
This workshop will be especially useful for students working on late medieval and early modern cultural history. Registered students will receive materials to study one week in advance of the workshop.
Programme
14:00-15:00: Lecture
Short break
15:30-16:00 Special Collections viewing
16:00-17:00 Analysis and discussion
Registration
There are 14 places available (first-come, first-served basis). Please register by sending an e-mail to k.laveant@uu.nl.