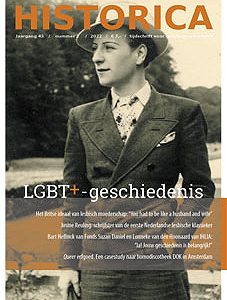 De redactie van Historica is op zoek naar een nieuwe redacteur (v/m/x). Heb jij affiniteit met gendergeschiedenis en lijkt het je leuk om ons gezellige en enthousiaste team te versterken? Stuur dan vóór 1 januari 2023 een e-mail naar historica@gendergeschiedenis.nl met daarin je motivatie, cv en (als je die hebt) enkele voorbeelden van recent schrijf- of redigeerwerk. Dit is een onbezoldigde functie.
Historica is hét wetenschappelijk en peerreviewed Nederlandstalig tijdschrift voor gendergeschiedenis. Het blad verschijnt drie keer per jaar en publiceert artikelen en recensies over gendergeschiedenis van de vroegste beschavingen tot de dag van vandaag. Elk jaar brengt Historica daarnaast een speciaal themanummer uit. De afgelopen jaren waren dat onder andere LGBTQ+-geschiedenis, gender en emoties, black feminism en vrouwen in WOII. Je krijgt begeleiding van een team van ervaren redacteuren.
Taken:
Drie keer per jaar redactievergaderingen bijwonen (in februari, juni en oktober)
Binnengekomen artikelen kritisch lezen voor bespreking op redactievergaderingen
Meedenken over nieuwe doelgroepen, thema's, vormgeving etc.
Als contactpersoon auteurs door het redactieproces begeleiden (gemiddeld één auteur per nummer)
Werven van nieuwe auteurs in je eigen netwerk of via bijeenkomsten en conferenties
Eventuele extra taken op het gebied van organisatie, eindredactie en drukproefcorrectie
We stimuleren inclusiviteit en hechten veel belang aan gelijke kansen – ongeacht gender, functiebeperking, afkomst, levensbeschouwing, seksuele oriëntatie, leeftijd, of anderszins. We moedigen dan ook mensen van diverse achtergronden aan om te solliciteren.
Vragen naar aanleiding van deze oproep? Mail ook dan naar historica@gendergeschiedenis.nl.