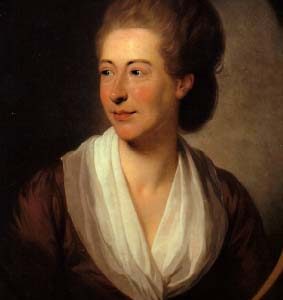 Symposium organized by the NEWW Working Group of Huizinga Instituut (New approaches to European Women's Writing)
Location: Online. Link: https://live.starleaf.com/ODQxMDg6MDY0NzQ5 
Date: November 23 2021
Time: 9.30 – 18.00
Interested students, colleagues and others are welcome to take part in this conference. Participation is possible either for the whole day, or for the morning or afternoon.
Due to the new Covid-regulations, this symposium will take place online
At Huygens Institute for the History of the Netherlands, we are working on the digitization of the correspondence of Belle de Zuylen/Isabelle de Charrière. The approx. 2600 letters are also provided with annotations, modernized spelling, and, more and more, translations. All this is done in collaboration with members of the Dutch Belle de Zuylen Association as crowdsourcers. For the translation, students of French (Nijmegen University) are participating.
Remembering, this year 2021, Belle de Zuylen's marriage taking place 250 years ago, as well as her leaving the country and installation in Colombier near Neuchâtel (Switzerland), provides an occasion for presenting a new part of these online letters: those that were sent from Utrecht, or where comments are to be found about 18th-century Utrecht, its inhabitants and remarkable streets or spots, such as the « Maliebaan », the bookshop where Belle de Zuylen used to buy her reading materials, the Utrecht fair with its famous waffles etc., and by extension letters which contain statements about the Netherlands, Dutch culture, characteristics of inhabitants etc. – a total of 764 letters.
The launching of these letters will take place November 23. At https://charriere.huygens.knaw.nl/ these letters will be added to those 199, that were presented earlier (October 2019): those for which the manuscripts are kept in Dutch archives.
On this occasion a symposium will be held, where we will discuss the possibilities created thanks to these online editions – not just for researching international networks between the correspondents, but also for collaboration with projects addressing larger audiences, such as the Utrecht Time Machine. Here the "history" of Belle de Zuylen/Isabelle de Charrière: her youth in Utrecht, contacts with the city once she had left the country, and souvenirs linked to the city of Utrecht, will be made visible.
There will be two sessions. Participation is possible for the morning or afternoon-session, or for the whole day. Because of foreign guest speakers contributing in the morning, this session will be held in English. We plan having translations or abstracts of the contributions in English (and vice versa).
The symposium is being organized by Huygens Institute for the History of the Netherlands (KNAW, Amsterdam), the NEWW Working Group [New approaches to European Women's Writing] of Huizinga Institute for research in cultural history, and Living Pasts and the Descartes Centre (each of them in Utrecht).
For the program and further information, see the website of Huygens Institute for the History of the Netherlands.
Registration via Huizinga@uu.nl Please let us know whether you would like to attend the entire day, morning, or afternoon.