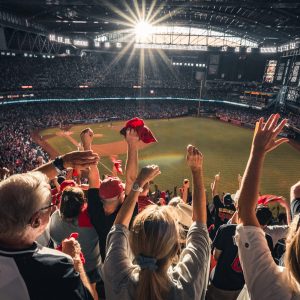 The Huizinga Institute welcomes auditors to the open session 'Sports', with lectures by and discussions with professor Laurent Dubois (University of Virginia) and professor Marjet Derks (Radboud University). The session is organised by dr Rachel Gillett and dr Jochen Hung (Utrecht University) as part of the RMA Thematic course 'Popular Culture and History'.
During the lectures and discussions, professors Dubois and Derks will illustrate how theoretical and methodological challenges associated with mass consumption, agency, intention and reception are applicable to sports as a distinct genre within in the study of popular culture.
Date and time: Thursday 27 May 2021, 16:00-17:30 via Zoom
Register via e-mail (huizinga@uu.nl) before 27 May. You will receive a Zoom link after registration.
Speakers:
Laurent Dubois (University of Virginia)
Laurent Dubois is the John L. Nau III Bicentennial Professor of the History & Principles of Democracy and Co-Director of the Democracy Initiative at the University of Virginia. From 2007 to 2020, he was Professor of Romance Studies & History at Duke University, where he co-directed the Haiti Laboratory from 2010-13 and then founded and directed the Forum for Scholars & Publics. He has written about the Age of Revolution in the Caribbean, with Avengers of the New World: The Story of the Haitian Revolution (2004) and A Colony of Citizens: Revolution and Slave Emancipation in the French Caribbean, 1787-1804 (2004), which won four book prizes including the Frederick Douglass Prize. His 2012 Haiti: The Aftershocks of History was a New York Times Notable Book of the Year. He has also written about the politics of soccer, with Soccer Empire: The World Cup and the Future of France (2010) and The Language of the Game: How to Understand Soccer (2018). His work on the cultural history of music, The Banjo: America's African Instrument (2016), was supported by a Guggenheim Fellowship, a National Humanities Fellowship, and a Mellon New Directions Fellowship. His most recent book is Freedom Roots: Histories from the Caribbean (University of North Carolina Press, 2019), co-authored with Richard Turits. His writings on music, history and sport have appeared in The Atlantic, The Nation, The New Republic, The New Yorker, The New York Times, Slate, and Sports Illustrated.
Marjet Derks (Radboud University)
Marjet Derks is Professor of Sport and Cultural History at Radboud University. She specializes in body (sport history) and soul (religious history), particularly from a gender perspective. Among her most recent publications are articles on transnational historical approaches to sport, gender and ethnicities, and boxing as contested cultural heritage.