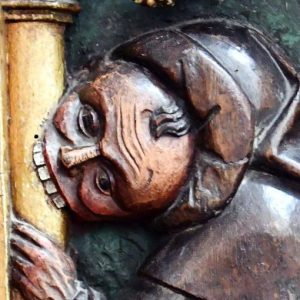 On 15 and 16 January the online workshop on the correlation between humour and religion in early modern Europe will take place. In recent decades, early modern conceptions of both humour and religion have received much scholarly attention. Humour has been studied as a rhetorical instrument, as an important aspect of theatrical and political culture, and for its role in shaping notions of class, race, gender and other social identities.
Religious experience
Similarly, the renewed interest in religion that is part of the 'turn to religion' in early modern cultural history has yielded new insights into sensory, emotive, affective, and various other aspects of religious experience. At the same time, however, the mutual relationships between humour and religion as equally complex and pervasive features of early modern society have received significantly less attention. This workshop, which is intended to be informal and explorative in nature, aims to investigate the variety of ways in which humour and religion interacted with each other in the early modern period.
For any inquiries, please contact Saskia Soelaksana at s.f.soelaksana@uu.nl.
Image: Pillar-biter, St. Bavo church in Haarlem. Author: @Bananadine. Source: https://twitter.com/Bananadine/status/899565891574214656.