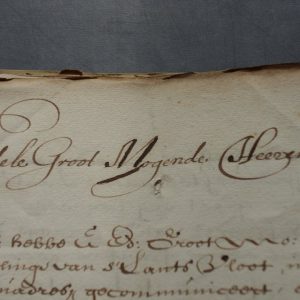 Utrecht, 28 juni 2021 – Voor de achtste keer reikt de historische vereniging Vrienden van De Witt een prijs uit voor de beste universitaire geschiedenisscriptie die betrekking heeft op de Republiek der Nederlanden in de zeventiende eeuw. Dat gebeurt samen met Uitgeverij Verloren te Hilversum (www.verloren.nl) en mediapartner weekblad EW. De prijs heeft als doel historisch onderzoek naar dit belangrijke tijdvak te stimuleren. Nadere toelichting is te vinden op www.vriendenvandewitt.nl.
Studenten die mee willen dingen naar deze prijs, dienen hun afgeronde scriptie vóór 25 september 2021 te mailen naar scriptieprijs@vriendenvandewitt.nl (in Word of als pdf). Zowel bachelor- als masterscripties, in het Nederlands en in het Engels, komen in aanmerking. Ze mogen niet ouder zijn dan drie jaar en kunnen slechts één keer worden ingediend.
De prijs voor de beste masterscriptie bestaat uit een oorkonde, een bedrag van € 1.500,–, een boekenpakket van weekblad EW inclusief jaarabonnement én een jaar lidmaatschap Vrienden van De Witt. Voor de beste bachelorscriptie geldt een aanmoedigingsprijs van € 200,–. Een samenvatting van de winnende scriptie wordt gepubliceerd in weekblad EW en op de websites van Uitgeverij Verloren, EW en Vrienden van De Witt. De overige genomineerde scripties ontvangen het boekenpakket. De feestelijke prijsuitreiking zal plaatsvinden op zaterdag 29 januari 2022.
De jury bestaat uit dr. E.C.M. Huysman, voorzitter (Huygens ING-KNAW), dr. R.M. Baars (KUN); dr. P. Brandon (VU), dr. M.A. Ebben (UL), dr. D.M.L. Onnekink (UU) en dr. J.A.M. van Tol (UvA). Secretaris is dr. L.H. de Jonge (WU). Voor meer informatie kunt u mailen naar info@vriendenvandewitt.nl of bellen met de secretaris, tel. 0612317957.