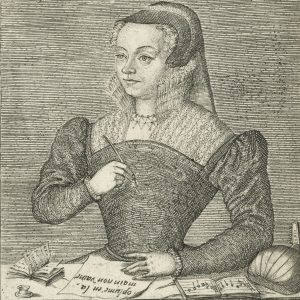 On December 8, 2022, the Huizinga Research network Women writers in history will organize a mini-symposium on digital approaches to women's book culture. During this symposium, we will interrogate how digital tools can help scholars reconstruct women's interactions with the written word in the early modern period. Moving beyond women's writing alone, we consider various facets of women's authorly identities, including their roles as collectors and book buyers, constructions of female scholarly identities, and the circulation of female-authored texts across both public and 'private' networks and forms of sociability. The afternoon will include presentations by PhD researchers, and will be closed with a keynote address by prof. dr. Marie-Louise Coolahan (NUI Galway), PI of the ERC-funded RECIRC project and database (RECIRC: The Reception and Circulation of Early Modern Women's Writing, 1550 – 1700).
PhD researchers who wish to present a paper during this symposium are invited send a 200-word abstract to the organizers by October 15, 2022.
Date and time: Thursday December 8 2022, 13-18h
Location: Radboud University, Nijmegen, Huize Heyendael (Titus Brandsmakamer/Marijnenkamer)
Organisers:
Alicia Montoya alicia.montoya@ru.nl
Nina Geerdink n.geerdink@uu.nl
Feike Dietz f.m.dietz@uva.nl
Lieke van Deinsen lieke.vandeinsen@kuleuven.be
The key-note address will be given by Marie-Louise Coolahan (NUI Galway):
'Patterns, Outliers, and Teasers: Questions and Challenges for the Reception of Early Modern Women's Writing'
This talk will present the 'big-picture' findings emerging from the ERC-funded project, RECIRC: The Reception and Circulation of Early Modern Women's Writing, 1550-1700 (https://recirc.nuigalway.ie). This project explores a series of questions that arise in the course of evaluating women's writing at scale: how did texts by women circulate? Who read them? How were they read, appropriated, or adapted? The project's primary aim has been to move beyond case studies in order to provide a large-scale, quantitative analysis of these issues. This talk will introduce RECIRC's open-access database and present results that illuminate the most commonly circulated genres and patterns of widespread circulation. It will show how such patterns throw up new research questions that often determine a return to close-reading techniques. Ultimately, then, it argues for the value of at-scale analysis as a combination of quantitative with qualitative approaches.