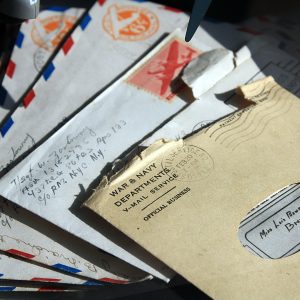 Uitnodiging Werkgroep Egodocumenten
vrijdag 31 maart 2023
Amsterdam, Oudemanhuis Poort (Universiteit van Amsterdam) zaal OMHP A1.18D.
Inloop 13.00, aanvang 14.00. Borrel: 17:00 uur
Aanmelden niet nodig
Michael Green (Faculty of Philosophy and History, University of Lodz, Polen)
"From Norway to Denmark and Beyond – Sex, Travel and Daily Life in Hans Barhow's Egodocument (1750)"
Hans Barhow (1704-1754) was a Norwegian man, who spent most of his life in Copenhagen, having studied there at the Faculty of Theology at the University of Copenhagen. Coming from a Pietistic background, four years before his death at the age of fifty, Barhow wrote an autobiographical account, which was only preserved because of the police investigation into his alchemist practises and suspected anti-Danish activity. The egodocument presents a fascinating source on early modern travel, sexuality and daily life.
Els Naaijkens
"Afscheidsbrieven van verzetsmensen, 1940-1945"
In dit project staan de afscheidsbrieven centraal die ter dood veroordeelden in de Tweede Wereldoorlog hebben geschreven aan familie en vrienden. Wie waren zij en hoe kwamen zij in deze onontkoombare toestand terecht? Wat waren hun motieven om tot een vorm van verzet over te gaan? Waarom werden zij door de bezetter zo hard aangepakt dat ze hun daden met hun leven moesten bekopen? Hoe doorstonden zij hun arrestatie, gevangenschap en ter dood veroordeling? Hoe namen zij ten slotte afscheid van het leven?
Er is in Nederland veel onderzoek gedaan naar de Tweede Wereldoorlog, de verschillende facetten van verzet, de zware straffen en represailles die volgden wanneer de door de bezetter opgelegde regels en wetten werden overtreden. Nooit is daarbij echter gekeken naar de groep ter dood veroordeelden als geheel, als denkbeeldig collectief. Zowel de herinnering aan hen als de herdenkingen bleven lange tijd beperkt tot de privé-sfeer of tot de gezindte, politiek of religieus, waartoe zij behoorden. Sommige namen zijn algemeen bekend (Gerrit van der Veen, Willem Arondeus), maar er zijn ook tal van minder bekende namen of zelfs anoniem gebleven personen die voor hun verzet de hoogste prijs betaalden.
Kunnen deze brieven een ander licht werpen op de aard en reikwijdte van het verzet?
Borrel na afloop