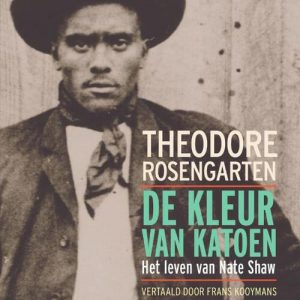 Op vrijdagmiddag 25 november bent u van harte welkom bij een programma van de interuniversitaire werkgroep Oral History van het Huizinga Instituut. Het betreft een boekpresentatie en ontmoeting met Ted Rosengarten, hoogleraar geschiedenis aan het College of Charleston in South Carolina. Rosengarten is gespecialiseerd in de geschiedenis van tot slaaf gemaakten en het jodendom.
Plaats: Belle van Zuylenzaal, Academiegebouw Universiteit Utrecht, Domplein, Utrecht.
Tijd: inloop 14.00, start programma 14.30. Met borrel na afloop vanaf 16.00 uur.
Aanmelden: huizinga@uu.nl 
Theodore Rosengarten, De kleur van katoen: Het leven van Nate Shaw. Vertaald door Frans Kooymans. ISVW Uitgevers, Leusden 2022. Vertaling van: "All God's Dangers: The Life of Nate Shaw". Alfred A. Knopf, New York NY 1974.
Als jonge historicus actief in en geïnspireerd door de burgerrechtenbeweging, maakte Ted Rosengarten in 1969 kennis met Nate Shaw, een actieve zwarte katoenboer in Alabama die zich inzette voor de rechten en het grondbezit van boeren. Shaw kon niet lezen of schrijven, en door honderden uren gesprekken droeg hij zijn levensverhaal en dat van zijn familie en omgeving over aan Ted Rosengarten die het verwerkte tot een boek dat de prestigieuze National Book Award in 1975 won en veel lezers vond.
Conceptprogramma:
14.00 inloop
14.30 Welkom door Susan Hogervorst
14.35 Korte presentatie door Ted Rosengarten bij de Nederlandse uitgave
14.50 Publieksgesprek Dienke Hondius met Ted Rosengarten over oral history-gerelateerde thema's:
Het genre van "De kleur van katoen" en het verband met oral history en (auto)biografie.
Wat betekent het om spreekbuis te zijn als historicus van vertellers van mondelinge verhalen? Van gesproken woord naar boek.
Onderzoek, bronnen, bronnenkritiek, ontvangst.
De context in de vroege jaren 1970: burgerrechtenbeweging en oral history initiatieven in de Verenigde Staten.
15.20 Korte reflectie door Astrid Sy, historicus en presentator van het geschiedenis-televisieprogramma Andere Tijden over de hedendaagse betekenis van het boek en haar betrokkenheid bij de vertaling. Vertaler en initiatiefnemer van de Nederlandse uitgave Frans Kooymans gaat in op vragen over de haken en ogen bij de totstandkoming van de Nederlandse tekst.
15.30 Discussie
16.00 Borrel
Zie ook: https://isvw.nl/shop/kleur-katoen/