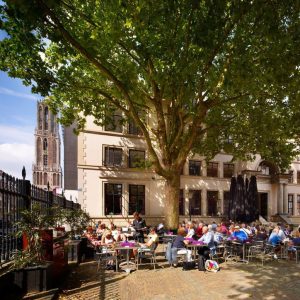 Dear all,
After a two years break, the Huizinga PhD/RMA Council is back with a social event for all Huizinga members to meet and catch up with fellow members.
On the 15th of June, we will visit the new exhibition Van God los? De onstuimige jaren zestig in the Catharijneconvent in Utrecht, about one of the most revolutionary and religious periods in Dutch history.
We will start at 15.00 with an introduction from the museum about the exhibition. At the end of the afternoon, around 17.00, there will be drinks at De Rechtbank (Korte Nieuwstraat 14, Utrecht).
Please register for the event at huizinga@uu.nl. If you are not able to attend the exhibition you are still very welcome to come for drinks.
We look forward to seeing you there!
Alie – Nathanje – Marleen – Anna – Marie – Marie – Eliza
PhD/RMA Council Huizinga Institute