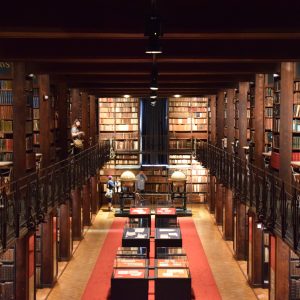 Date: Friday 3 November 2023, 13h-17h
Location: Hendrik Conscience Heritage Library, Antwerp
(NB: This session will be hosted in the historical Nottebohmzaal, a hidden gem in Antwerp)
Research on women oftentimes requires different or creative research methods. This session will focus on the quest for seemingly absent historical women in archives, data collections and heritage collections. Three experts will address these difficulties and possibilities, and share best practices based on their own experience and expertise.
Featuring: Prof. dr. Nadine Akkerman (Professor of Early Modern Literature & Culture at Leiden University, PI of the ERC-project FEATHERS), dr. Heleen Wyffels (project leader Short Title Catalogue Flanders and expert on early modern women printers), and dr. Steven Van Impe (curator of the Hendrik Conscience heritage library).
Program:
| | |
| --- | --- |
| 13h | Welcome by the organizers and short introduction on the location by Steven Van Impe |
| 13h10 | Introduction pitches by all participants about their research, in relation to the central topic.** |
| 14h | Perspective 1: The Curator (Steven Van Impe) |
| 14h30 | Coffee break + Collection exhibition |
| 15h00 | Perspective 2: The Data & Research (Heleen Wyffels) |
| 15h30 | Perspective 3: The Researcher and Archive Hunter (Nadine Akkerman) |
| 16h30 | Discussion |
| 17h00 | Closing and (optional) Drinks |
** Please note that all participants are expected to give a short introduction of their research project in the light of the theme of the afternoon: are you struggling finding sources? How are you dealing with the invisible agents in your project?
Registration: huizinga@uu.nl – this seminar is currently fully booked. Contact huizinga@uu.nl for a spot on the waiting list.
Max. participants: 15.